Welcome to SeeHear Recordings
... and to our Galerie Digitale with R[o]aming to the sound of Echoflex - a calm journey to music & abstract art, our new ambient animation video:
Please subscribe to our SeeHear YouTube channel for updates on future premieres.
---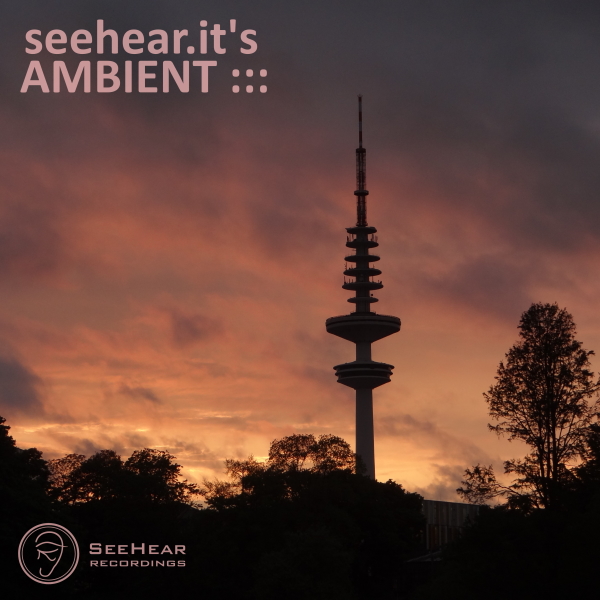 These days we have prepared a new playlist: seehear.it's AMBIENT :::
Ambient music and beyond: calm sounds to relax, sometimes experimental, mostly without beats, classics and new finds.
Our playlist is available on ::: Spotify ::: Deezer ::: YouTube ::: Soundcloud :::
If you want to submit your music to be part of the playlist, please contact us at mail@seehear.it and we'll have a listen.

---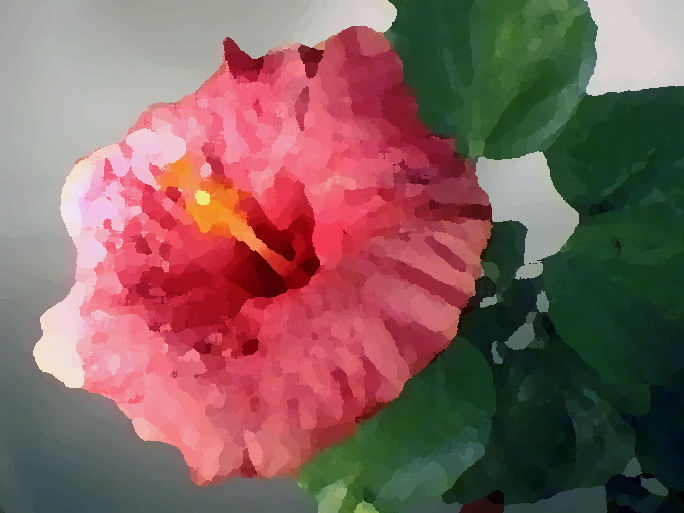 We are so sorry about the very sad news that reached us a few weeks ago: David Muddyman, artist and member of the group Loop Guru, also known as Jamuud and Echoflex, left this universe at the end of March.
He was such a talented musician and artist, not limited to any genre or form of expression. In 1985 he formed together with Sam Dodson the unique band Loop Guru which subsequently pulled down all borders and limits between dancable and ambient - traditional and modern - western and eastern. During the years the group increased and worked with many talents and developed more and more. Listening to Loop Guru is always a pleasure to see the world united in sound.
Not just acoustic, the digital creation is a fascinating field as well: as Jamuud he released the very calm ambient "Niskala" created on the Koan Engine and then dived into modular synthesis in the recent years. This was the starting point for Echoflex: during the R[o]aming exhibition in 2019 Davids abstract watercolour paintings were accompanied by his ambient soundscapes.
With his modern electronics sounds inspired by Kosmische Musik, Krautrock, Arte Sonoro and also Piano sounds combined with his stunning visual art, David set as Echoflex new accents for SeeHear Recordings.
A great highlight is the appearance of "Memoria" from the album Echoflex VII: Mythos as opening title on the CD-compilation "7th Annual Report" released by the Unexplained Sounds Group end of 2021.
For us it is such a honor that we could collaborate with you David for the Echoflex project.
We will always keep this treasure and remember you.
🙏 Thank you for the great time with you - David, Jamuud, Echoflex. 🙏
---
In March we had an anniversary: 20 years ago the debut album by Kubus |__|/ was born, the very first CD-release on SeeHear!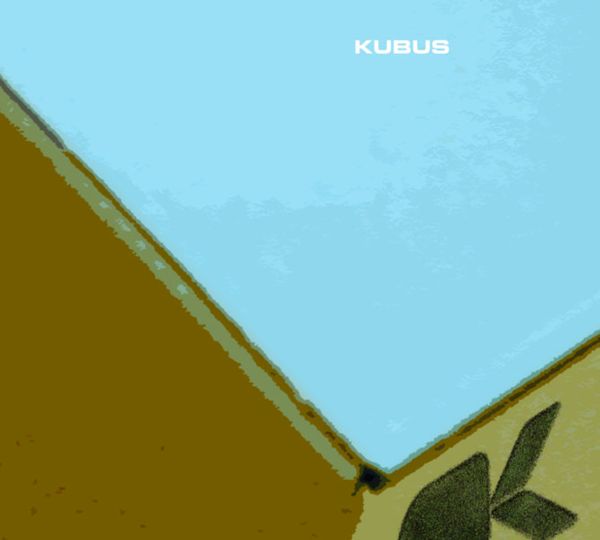 At this time the band from Switzerland had the mission to bring back the live feeling into the dance club-culture: having a live band playing danceable sounds is a completely different experience to a DJ-set. This mission succeeded: Kubus |__|/ had gigs with more than 500 guests and also played live at the famous Kaunas Jazz Festival in Lithuania.

"Kubus" and the other two albums "Kubulus" and the re-released "Live at Boa Bar 2000" are great examples of their advanced sound beeing for both dancing and listening.
If you want to grab a Kubus-CD check our Online-Shops at Bandcamp, eBay or Discogs® - a very few copies are still available.
---
For this year we have some plans and interesting releases ahead - and to be always up to date, please Follow us on your preferred social media platform.
And before revealing the news let's remind our charity initiative
::: listen & support after the deluge :::
Heavy storms, strong rains, forests burning - the recent news are devastating: Many people lost their homes and even their lifes - in the fires in America, Australia, Greece, Turkey - in the floods in Belgium, China, Germany, India and other countries across the world. To help in this worse situation, we are donating all revenues from Echoflex' ambient title "After The Deluge"
> to Malteser International - supporting people after catastrophies in many countries and
> to Atmosfair - supporting several sustainable energy projects accross the world to counteract the climate change.
--> Click here for the Playlists...
Please share it with your friends: it is easy to listen & support - each "After The Deluge" stream and download will help!
---
And then we have a small look back to 2021 - a year with ups and downs, downs and ups and in this manner we present:
::: seehear.it's 2021 most and least played... :::
playlists on ::: Deezer ::: Spotify ::: Soundcloud ::: YouTube ::: From Ambient to Drum'n'Bass: a great variety of electronic sounds - that's SeeHear Recordings and this are the charts of our most played and hidden gems in 2021 from each of our artists: most played... ::: 1. Scud: - To The Bone ::: 2. Kubus |__|/ - Akkustikheaven ::: 3. Echoflex - 50°21'08"N 4°10'22"W Veering SW ::: 4. Visual Sounds < ( o ) > - Aton undiscovered... ::: 5. Scud: - Target ::: 6. Kubus |__|/ - Archeopterix ::: 7. Echoflex - Towards Arcadia ::: 8. Visual Sounds < ( o ) > - 3rd Chapter
---
End of November we celebrated a great anniversary: 21 years ago our 12"-EP "Material 2" by Scud: has been released on 30. November 2000 :-)
Of course, nowadays Scud:'s music is available as well for streaming and download: Scud: - Material, finest Drum & Bass and tricky grooves from both 12"-EPs "Material 1" and "Material 2".
But for those of you who prefer vinyl on the turntable instead of bits'n'bytes on your hard drive: check our Online-Shop offers at Bandcamp, eBay or Discogs®.
---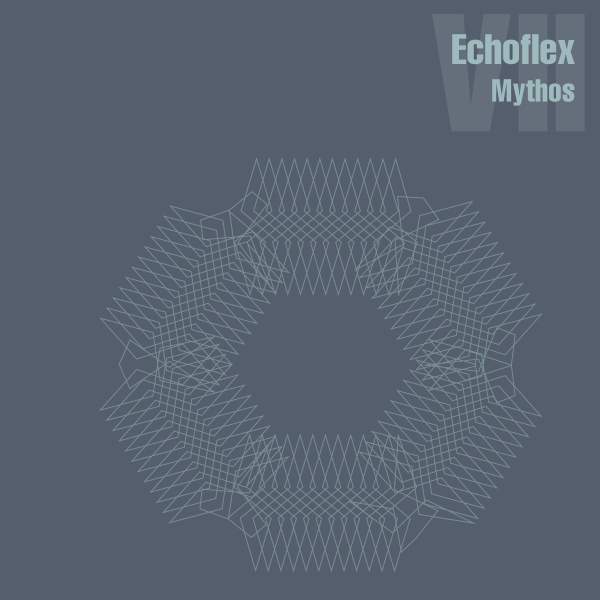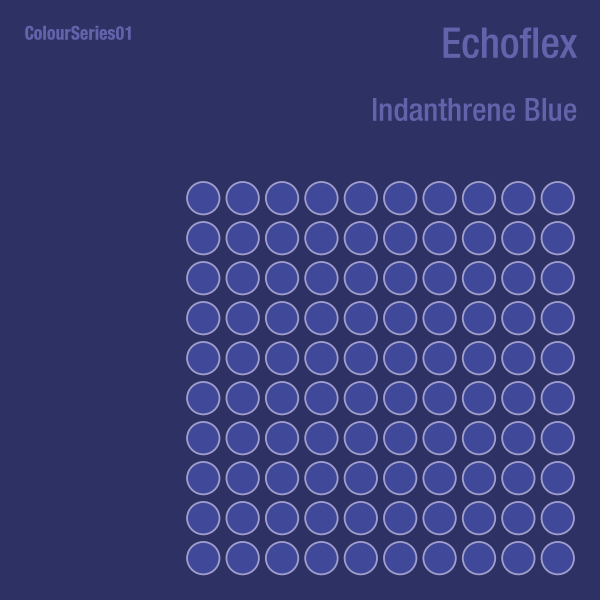 Revealed on Easter '21: the new album Echoflex VII: Mythos, seven mythical worlds of fabulous art by Connor McIntyre and sonorous atmospheres by Echoflex.
The unique sound of Echoflex, ambient electronic soundscapes and Kosmische Musik created on modular synthesizers is inviting to dream and sweep away into another world and to forget the crazy things around us.
Echoflex is moniker of David Muddyman aka Jamuud, artist and member of the group Loop Guru.
The brand-new EP-ColourSeries by Echoflex is investigating the question "Are colours having a sound?", the first EP is a listen to "Indanthrene Blue".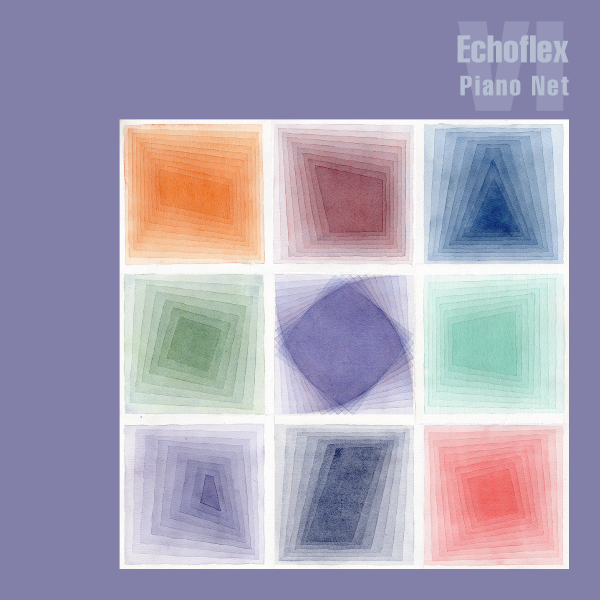 In 2020 alltogether six Echoflex albums were born into the universe of sound and art. The sixth album Echoflex VI: Piano Net delights with long-echoed ambient meditative piano sounds with ancient Greek scales accompanied by stunning Watercolour Studies with hypnotic fading shapes.
Before, starting on 1st August 2020, we had a bi-weekly release series: every 2nd Saturday a new album by Echoflex has been released.

First the album-triple Echoflex I, Echoflex II and Echoflex III with the soundtrack for R[o]aming was born: In line with our philosophy, the Echoflex soundscapes are accompanied by Davids impressive abstract watercolour paintings from the R[o]aming collection.

In September the Krautrock and Kosmische Musik inspired albums Echoflex IV and Echoflex V along with a special selection of David's monoprints from the "Echoes"-series have been released on SeeHear, available for download and streaming at many music services.

More details and the stunning visuals on our projects page.

Please contact us at media@seehear.it if you want to present Echoflex in your music magazine, channel or blog.
---
And last but not least: the Soundtrack from our very first Release "No Fruit, No Serpent" by Visual Sounds < ( o ) > is available as well. On YouTube you can watch the ambient-grooves music-clips, here is one of it:
More news to come - soon on this page.
Enjoy to see and hear - seehear.it !