Welcome to SeeHear Recordings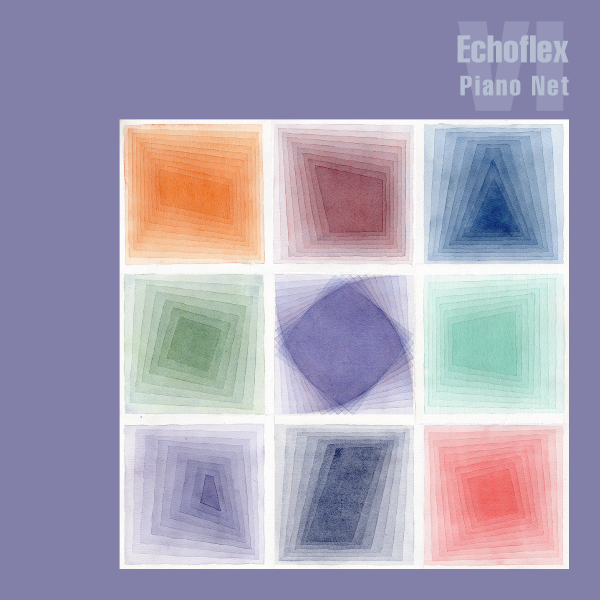 ... and in the new, hopefully better year 2021. The old year 2020 was full of cuts and breaks for many people in the world.

But there were also bright spots that made us very happy, such as the unique sound of Echoflex, ambient electronic soundscapes and Kosmische Musik created on modular synthesizers inviting to dream and sweep away into another world and to forget the crazy things around us.
Echoflex is moniker of David Muddyman aka Jamuud, artist and member of the group Loop Guru.

Recently the previously unreleased Echoflex VI: Piano Net was born into the universe of sound and art: Long-echoed ambient meditative piano sounds with ancient Greek scales accompanied by stunning Watercolour Studies with hypnotic fading shapes.
Before, starting on 1st August 2020, we had a bi-weekly release series: every 2nd Saturday a new album by Echoflex has been released.

First the album-triple Echoflex I, Echoflex II and Echoflex III with the soundtrack for R[o]aming was born: In line with our philosophy, the Echoflex soundscapes are accompanied by Davids impressive abstract watercolour paintings from the R[o]aming collection.

In September the Krautrock and Kosmische Musik inspired albums Echoflex IV and Echoflex V along with a special selection of David's monoprints from the "Echoes"-series have been released on SeeHear, available for download and streaming at many music services.

More details and the stunning visuals on our projects page.

Please contact us at media@seehear.it if you want to present Echoflex in your music magazine, channel or blog.
---
Brand new: SeeHear on Bandcamp for a convenient order of our records and CDs with worldwide shipping directly to your home.
Now as well as MP3-album: Scud: - Material, finest Drum & Bass and tricky grooves from both 12"-EPs "Material 1" and "Material 2". For those of you who prefer vinyl instead of bits'n'bytes on your hard drive: check our Online-Shop offers at SeeHearRec on eBay or SeeHear on Discogs®.
Our online revival started with the Swiss sextet Kubus |__|/ with their two jazzy albums Kubus and Kubulus.
Followed by the Soundtrack from our very first Release "No Fruit, No Serpent" by Visual Sounds < ( o ) >. On YouTube you can watch already three of their ambient-grooves music-clips, here is one of it:
We wish you a happy new year with plenty of time for good music and art!
More news to come - soon on this page. Enjoy to see and hear - seehear.it !